As, it is described in our previous article, Morkie, that the Morkies puppies are the cross between Yorkshire terrier and Maltese. There is an interesting fact about the Morkies that they are 4-5 ounces at the birth time. These little pups tend to look more like Yorkshire terriers.  You can take these small fluffy balls with you, everywhere due to their small size. If you have a teacup Morkie puppy, you should be very careful as holding it too hard can be dangerous for the little morkie.
These little dogs need to be trained from the day you bring them to your home. Training in the early age will help in handling dog. Early socialization is also important. Introducing the people outside the house and other pets is a good idea.
Morkie puppies require a lot of attention and care because they are tiny. It is recommended to clean the house before bringing the puppy home, so that he may no inhale. Prepare a place (crate) for the puppy to sleep at night or whenever he wants to rest. They may bark and cry in the early days but will adjust quickly.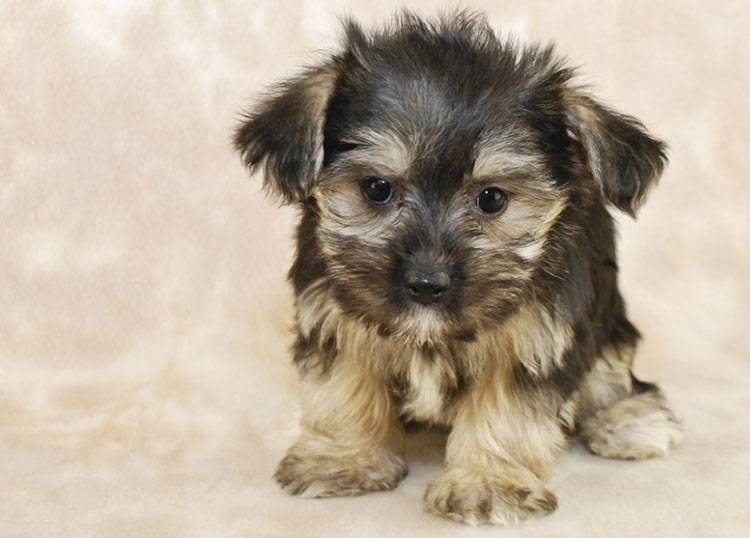 Morkie puppies will eat any food you will give them. Their aim is to eat. Keep in mind that these little dogs need a balanced diet for their health and growth. All dogs like Morkie must have Protein, Fats, Vitamins, and Minerals in their diet. However small dogs need more calories per pound of their weight as compared to the big dog breeds.
Teacup Morkie
The name teacup is given to the Morkies due to their small size when they are puppies. These teacup sized dog stand at 6 to 7 inches, and the weight can be 3 to 7 pounds. Their black eyes, small muzzle, silky coat, and beautiful colors are the reasons why people are crazy for Morkies.
Morkie Puppies for sale
Before finding a breeder, you must prepare yourself for the cutest guest and the things that this little cutie will need. You have to buy toys, crate, bowl, grooming tools, and shampoos, etc. for him. Do your research and find the reputable breeder. While buying, ask the breeder for the health records of dam, sire, and puppy. Ask if the puppy has any health concerns. Also, visit the area a furnace repair service where the puppies were bred and spent their early days after birth. The reputable and honest breeder will answer every question asked by you.
Morkie Puppies Price
In the case of Morkie puppies, the price of the puppy depends on the size, health, energy level and also the cuteness of the puppy. You can find one in $600 to $2000 range.
Also, read Shih poo dog breed information
If anybody wants to buy the Morkie puppy, here is some useful information about them.
Morkie Puppies for sale Near me
If you want to buy puppies online, then you have to search (Morkie puppies for sale near me) on Google.com, then the Google will tell you nearby breeders. There are some other websites to find the reputable breeders in your city. Also, we have given a list of some breeders that with their cities below.
Morkie puppies for sale worldwide
Morkie Puppies for sale in Canada
Morkie Puppies for sale in Ontario
Name: Teeny Pup Email: [email protected] Phone: 705-970-0795 Website: www.teenypup.com
Name: Mini Pups Phone     No. 647 838 6762   Website: minipups.ca
Morkie for sale in Uk
Name: Kellys Kennels Phone: 07807047619 Email: [email protected] Website: www.kellyskennels.co.uk
Name: Lolly Pups    Website: www.lollypups.co.uk    Email: [email protected]
Morkie Puppies for sale in the USA
Morkie for sale in Pa
Name: RidgeWoodPuppies  Phone: (610)-873-7045 Website: www.ridgewoodpuppies.com
Morkie Puppies for sale in Texas
Name: Dallas Petland Phone No. (972)-386-7378 Website: https://www.dallaspetland.com
Morkie Puppies for sale in Ohio
Name: Pet Land Caster  Phone Number: (740)-277-6074 Website: petlandcaster.com
Name: Premier Pups Phone: (740)-809-3074 Email: [email protected] Website: premierpups.com
Morkie Puppies for sale in Michigan
Name: Great Lakes Pup Phone: (586)-914-6129 Website: www.greatlakespup.com
Name: The Family Puppy Phone: (248)-365-7476 Website: www.thefamilypuppy.com
Name: Petland Novi Phone: (248)-449-7340   Website:www.petlandnovi.com
Morkie for sale in Mn
Name: OhPuppy Love Email: [email protected] Phone: 920-834-2028 Website: www.ohpuppylove.com
Name: Puppies And Kids Phone: 507-273-5774 Website: www.puppiesandkids.com
Name: JG Kennels Email: [email protected] Phone: 320-864-5860 Website: www.jgkennels.com
Morkie for sale in Florida
Name: Lil Rascals Phone: 239-947-7877 Email: [email protected]   Website: www.lilrascalspuppies.com
Name: Morkies and More Phone: 239-281-6984 Email: [email protected] Website: www.morkiesandmore.com
Name: Morkie Puppies Phone: 352-220-0351 Website: www.morkiepuppies.com
Final Words
If you are buying the Morkie puppies, you have to be extra careful because they are tiny dogs. The price is a bit high due to their demand and cuteness, but the person who loves them will not care for money.