The Dogs Magazine Scholarship Program for the Students Only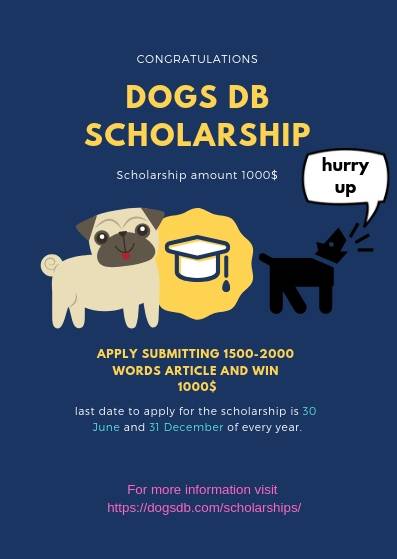 We are glad to inform you that we are introducing the The Dogs Magazine scholarship for the students of colleges and universities. This annual scholarship will help the students to reduce some of their expenses.
The scholarship of 1000$ will be given to 1 student per academic year. Scholarship funds must be used to pay for qualified expenses, including tuition fees, and books, etc.
Who is eligible for The Dogs Magazine scholarship Program?
Students of colleges and universities are eligible to apply. We do not have any other particular requirement to apply for the scholarship.
Important
To apply for the The Dogs Magazine scholarship program, the student must write and submit an article of 1500-2000 words. The article must be related to dogs or dog related things like health, diet, grooming, and especially breeds of the dogs. The article must be 100% plagiarism free, self-written and well-researched with no grammatical mistakes. We will also promote the winner and his article on our blog.
What do we look in an applicant and his/her submission?
We are looking for a person who loves dogs and has some knowledge about the dogs, their health and diet of the dogs. It will be great if you are studying the pet-related studies, but it is not the requirement. You have to submit a 1500-2000 words self-written article, with no plagiarism, and grammatical mistakes.
Submission Guidelines
Submit your article with your Name, Article topic, College/University name and send it to the following Email-

[email protected]

.
You must have proof that you are currently studying at a college or university.
We must receive the submission before the deadline.
The last date for the submission is 30 June & 31 December of every year.
Looking For Ideas?
Here are some of our favorite blog post perfect for The Dogs Magazine audiences.
Chiweenie dog: Chihuahua Dachshund-mix information
Bernedoodle dog breed Information
Size of a full grown Pomsky dog with height & weight
Morkie Puppies: Yorkshire terrier Maltese mix puppies buying guide
Rules and Regulations:
The article must be original and self-written and in English. We will check the plagiarism of the submitted articles through paid tools. The articles with plagiarism will not be considered.
When providing the article, keep in mind that you are giving the right to The Dogs Magazine to publish your article on our website. However, we will mention your name as Author of the article.
It is our right to select the winner of our choice, and the decision will be final.
If we do not receive our estimated number of articles, the scholarship will be canceled.
You can know more about the The Dogs Magazine by clicking on the following link.
About The Dogs Magazine