Introduction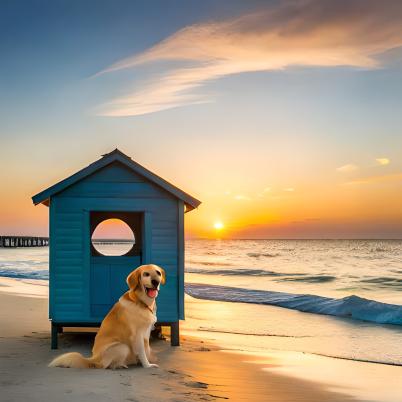 For pet owners in Corpus Christi, finding the right care for their furry companions when they're away can be a daunting task. Whether you're planning a vacation, a business trip, or facing any situation that requires you to be away from home, you want to ensure that your beloved dog is in safe and loving hands. That's where dog boarding facilities come into play.
In this comprehensive guide, we'll explore everything you need to know about dog boarding in Corpus Christi. From understanding what dog boarding is and its benefits to finding the best boarding options in the area, we've got you covered. So, let's embark on this journey to discover the perfect home away from home for your canine friend.
What is Dog Boarding?
Dog boarding is a service provided by specialized facilities, commonly referred to as kennels or doggie daycare centers, where pet owners can leave their dogs for a temporary period. These facilities offer a secure and comfortable environment where dogs are cared for by trained professionals in the owner's absence.
Benefits of Dog Boarding
Safety and Security: Dog boarding facilities are designed to keep your pet safe and secure. They have staff members who are experienced in handling various breeds and temperaments, ensuring that your dog is in capable hands.
Socialization: Many boarding facilities offer opportunities for dogs to socialize with other canine companions, helping to improve their social skills and reduce anxiety when around other dogs.
Routine and Structure: Dogs thrive on routine, and boarding facilities provide a structured environment with scheduled feeding, playtime, and rest, which can be comforting for dogs accustomed to a routine.
Professional Care: Trained professionals at these facilities can recognize and address any health issues or emergencies that may arise during your dog's stay.
Peace of Mind: Knowing that your dog is well cared for while you're away can provide peace of mind, allowing you to enjoy your trip without worrying about your pet's safety and happiness.
Choosing the Right Dog Boarding Facility
Now that you understand the benefits of dog boarding, it's important to choose the right facility for your furry friend. Here are some factors to consider:
Reputation and Reviews: Research local boarding facilities and read reviews from other pet owners. A reputable facility with positive feedback is more likely to provide excellent care for your dog.
Visit the Facility: Schedule a visit to the facility before making a reservation. This will give you a chance to see the environment, meet the staff, and ask any questions you may have.
Cleanliness and Safety: Ensure that the facility is clean and well-maintained. Check for safety features such as secure fencing and proper ventilation.
Staff Qualifications: Inquire about the qualifications and training of the staff. Experienced and knowledgeable staff members are more equipped to handle various situations.
Pet Policies: Understand the facility's policies regarding vaccinations, medication administration, and any specific requirements for your dog's stay.
Top Dog Boarding Options in Corpus Christi
Bayside Pet Resort: Known for its luxurious facilities and attentive staff, Bayside Pet Resort offers a variety of services, including boarding, grooming, and daycare. They have spacious indoor and outdoor play areas, ensuring your dog gets plenty of exercise and socialization.
Camp Bow Wow: Camp Bow Wow is a nationwide chain of dog boarding facilities, and the Corpus Christi location lives up to its reputation. They offer both overnight boarding and doggie daycare services, and their staff is trained in dog behavior and safety.
The Dog House Pet Salon and Boutique: This family-owned facility provides personalized care for your dog. They offer cage-free boarding options, and their staff is dedicated to making your dog's stay enjoyable.
Paw-Purr-ee Pet Resort: With climate-controlled accommodations and spacious play yards, Paw-Purr-ee Pet Resort ensures your dog's comfort and entertainment. They offer grooming services as well, so your pup can return home looking and feeling their best.
Woody's Dog Wash and Pet Boutique: Woody's offers a unique combination of dog grooming and boarding services. Their small, cozy atmosphere ensures that your dog receives individualized attention and care.
Barkaritaville Pet Resort: 
The first Barkaritaville Pet Resort was created over a decade ago to meet a need for a luxury pet resort offering a full range of services including lodging, daycare, grooming, and retail. Today, we are proud to meet that need with two premier locations. Both our San Antonio and Corpus Christi resorts are dedicated to bringing a full-service, fun, and enriching experience for your pet and you! At Barkaritaville, you can customize your pet's experience with our menu of services including:
Preparing Your Dog for Boarding
Before you drop your dog off at a boarding facility, there are a few steps you can take to ensure a smooth transition:
Vaccinations: Ensure that your dog is up-to-date on all vaccinations required by the boarding facility.
Pack Familiar Items: Pack your dog's favorite toys, bedding, and a piece of your clothing with your scent to provide comfort and familiarity during their stay.
Medication and Instructions: If your dog requires medication, provide clear instructions and enough medication for the duration of their stay.
Emergency Contacts: Leave emergency contact information with the boarding facility in case they need to reach you during your absence.
Trial Stay: If your dog has never been boarded before, consider a trial stay of one night to help them acclimate to the environment.
Conclusion
Dog boarding in Corpus Christi provides pet owners with a reliable and safe solution for caring for their dogs when they can't be by their side. By choosing the right facility and adequately preparing your furry friend for their stay, you can ensure that both you and your dog have a stress-free experience. Whether it's a short getaway or an extended trip, the best dog boarding facilities in Corpus Christi are here to provide top-notch care and companionship for your beloved canine companion. So, rest assured that your pet will be in good hands while you're away, and you can enjoy your time with peace of mind.